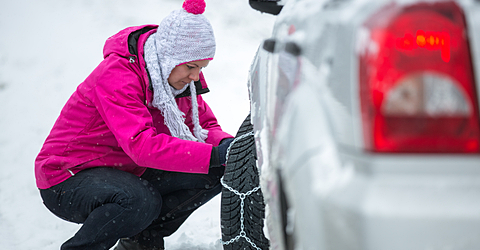 Tire chains remain relevant in the age of electronic stability control and anti-lock brakes for one simple reason: They work.
"The right chains improve traction, steering and braking, which make for a safer trip," said George Kosidowski, vice president of sales and marketing at Peerless Chain Company.
Early versions of snow chains used diamond-shaped steel links woven between the wheel's spokes. Now companies craft modern "traction devices" from materials including aircraft cable, rubber, plastic and, of course, steel.
"The products have evolved over the years into a variety of different materials and styles focused on improving traction, installation, vibration, wear, vehicle compatibility and overall safety," he said.
Hooking up chains can be confusing, especially if you're inexperienced.
"Practice installing tire chains before you actually need them. It's easier to learn how to put them on in good weather in your driveway than on the side of the road in a blizzard and please drive safely," Kosidowski said.
Kosidowski offered the following advice for buying and using snow chains.
Know where to install the chains. Kosidowski recommends applying traction devices to all four tires, however, attach the chains to the drive tires if you only have two. That means chains on the front tires for front-wheel drive vehicles and on the back wheels for rear-wheel drive.
Check your owner's manual. Some vehicle manufacturers steer you away from putting on snow chains. Such vehicles typically have minimal clearance around the wheels and chains pose a risk of automotive damage.
Consider the investment. Devices with diagonal cross patterns and alloy coils typically enjoy the longest lifespan.